We are an information systems company founded in 2015, consists of a multidisciplinary team of highly qualified technicians that provides innovative and high value for our customers solutions.
The activity of Geosense focuses on the creation and development of information products "key-in-hand" for cartography (maps), aerial photography, 3D modeling and maps for precision farming with the use of aerial platforms (drones, light aircraft) for the acquisition of very high resolution images using various types of sensors.
The products generated are Orthophotomaps (georeferenced images of very high resolution 2-10 cm with actual dimensions) based on RGB sensors, NIR, RE, thermal; 3D models (Point Cloud and terrain elevation and Raster); and aerophotogrammetric surveys and field topography.
This information allows the development of decision support systems in precision agriculture, forestry, surveying, urban planning, cadastre, erosion monitoring, inspection infrastructures (wind and solar parks, and powerlines), construction, security and monitoring of natural areas, risk assessment, among many others.
The activity of months allowed to build a portfolio of clients like Esporão, NEC Portugal, the Ministry of Health, the New University of Lisbon, the Algarve University, the University of Coimbra, the National Civil Engineering Laboratory, CartoGlobo, Esri and Portugal, among others. This activity was mostly linked to the development of new applications of sensors of various types to study the growth of agricultural and forestry species, and monitoring of dams and infrastructure of port and coastal protection.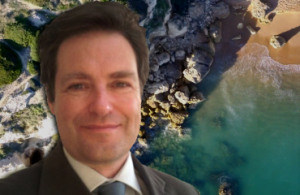 ALEXANDRE SANTOS
CEO
Master of Geographic Information Systems and Degree in Environmental Engineering, and holds since 2015 the position of Chief Executive of Geosense. In Geosense develops the area of geographic information systems based on data acquired by satellite and unmanned aerial vehicles. In recent years he exercised activity with unmanned aerial vehicles fixed wing and rotary wing, and also given training in this area in Portugal and abroad.
Consultant of Internal Affairs Directorate General where he was responsible for the design and development of the Territorial Information System of Internal Affairs (SITAI- Current GEOMAI): geographic base for the Forces and Security Services (GNR, PSP, ANPC, ANSR, among others). Infrastructure of spatial data of MAI. GIS model for the MAI, with online and offline solution. Established protocols with producing entities and providers of geographic information and set out the various procedures of procurement of goods and services such as mapping area, geographic information and information systems.
Click edit button to change this code.
CONTACT US
We are here to help answer your questions, our experts are on hand to advise on all aspects of our service.
Do not hesitate to contact us.